Let's face it – you're tired of your current living situation and are ready for a change. Luckily, there are many homes available in your area – you just need to find a residence that fits your needs and budget. The homebuying process sometimes can become time-consuming and exhausting, but we're here to help you take the guesswork out of finding a residence and ensure you can discover your dream home quickly and effortlessly. Here are three tips that you can use to speed up the homebuying process:
1. Get Pre-Approved for a Mortgage.
Why should you look at homes you cannot afford? Instead, you can get pre-approved for a mortgage and search for residences that suit your budget perfectly. Many lenders are available that offer financing for homebuyers nationwide. As a result, you may be able to evaluate a variety of lenders to ensure you're able to get the lowest interest rate on your mortgage. Before you begin your home search, get pre-approved for a mortgage – you'll be happy you did! And remember, if you are pre-approved for a mortgage, you may be able to improve your chances of a home seller accepting your offer over others (i.e. from homebuyers who still need to get financing) as well.
2. Employ a Home Inspector.
After you submit an offer for a residence, you'll want to hire a home inspector who can evaluate this property to the fullest extent. A home inspector serves as an unbiased third-party who possesses the experience and know-how needed to evaluate a residence. Therefore, this inspector will be able to identify any problem areas before you buy a house. With the right home inspector at your side, you can boost your chances of finding the right home without delay. This inspector will empower you with the insights you need to make an informed homebuying decision, one that could deliver significant benefits both now and in the future.
3. Work with a Real Estate Agent.
Although you'd like to find a home as quickly as possible, you may lack the time and resources needed to fully review the real estate market. By hiring a real estate agent, however, you can streamline the process of exploring the real estate market in your area. A real estate agent will collaborate with you, learn about your wants and needs and provide information about residences that match your preferences. This professional can even set up home showings and keep you up to date about open houses in your area. Thus, your real estate agent serves as a dedicated housing market resource and will do everything possible to ensure you can find the perfect home. You'll likely discover a broad assortment of real estate agents available in cities and towns across the United States. And to find the right real estate agent, you'll want to meet with this professional and make sure you're comfortable working with him or her as you embark on your search for your dream residence. Take advantage of the aforementioned tips, and you should have no trouble accelerating the homebuying process.
For frequent hosts owning your own home is an exciting upgrade to your hospitality skill set. A home large enough to include a guest room for friends and family to stay the night allows you to provide a homey overnight stay that trumps a hotel experience every time.
To create the perfect home away from home guest room for visitors just follow this guide.
First things first, keep it tidy over time. Don't fall to temptation and use it as a catch-all storage room. This will just lead to more clean up before guests arrive and detract from the home away from home experience if they feel like they are staying in a glorified storage closet.
Before guests arrive freshen up the room by dusting, cracking a window for fresh air, spritz linens with a spray, and vacuum the floors.
Stock your guest bathroom well with toilet paper, tissues, q-tips and cotton balls. Keep two full matching sets of towels folded up nicely and in the open for guests to easily grab. Take a page from the hotel room playbook and have decorative shelving for this very purpose. Either mount shelving to the wall or find a standalone unit that matches your decor.
Have toiletries on hand in case guests have forgotten any while packing. Include new, individually packaged toothbrushes, a tube of toothpaste and travel size deodorants for example. It is always thoughtful to stock the medicine cabinet with the basics.
Stock up on luxurious soaps, lotions, and shampoos to keep on hand in your guest bathroom. It's best to also keep these out in the open so it is obvious to guests it is for their use. Tiered cake stands, catch-all bowls and clear jars are a great way to put these stylishly on display.
Offer the perfect sleeping experience by including a light bedding option and a warmer one - no matter the season. An ottoman at the foot of the bed with extra blankets and pillows will help guests feel at home to set up the bed their way.
Lay down on the bed to get a feel for how it would be for your guests. In fact, interacting in the room as if you are your guest is a great way to discover what your room is missing. Offer plenty of lighting. Bedside lamps in addition to the ceiling light allow guests to create ambiance or stay up reading while their partner snoozes.  
Decorate the room to keep it cohesive with and as homey as the rest of the house. Hang pictures of friends and family. Frame a decorative image that has your wifi network and password readily available for guests to log in. Include fresh cut flowers and seasonal decor.
Ready to discover your dream home? With help from your loved ones, you may be able to accelerate your journey from homebuyer to homeowner.
Ultimately, there are many reasons to include family members and friends in your search for the perfect home, including:
1. Loved ones are happy to help you in any way they can.
Loved ones have your best interests in mind and will do whatever they can to assist you. That way, you can get extra help as you embark on the homebuying journey.
Before you begin your home search, it may prove to be helpful to meet with loved ones so that you can explain your homebuying goals to them. This will allow you to describe what you'd like to find in your dream home. Plus, meeting with loved ones gives family members and friends an opportunity to ask you questions about your home search.
If you and your loved ones are all on the same page, you'll be able to get ample support as you prepare to kick off your home search. Then, you and your loved ones can check out a broad array of houses and find one that matches or exceeds your expectations.
2. Loved ones can share their homebuying experiences with you.
For those who are entering the real estate market for the first time or have not purchased a house in several years, it may be beneficial to involve loved ones in the property buying process.
Loved ones who have recently purchased homes can provide real estate insights that you may struggle to obtain elsewhere. They can respond to your homebuying concerns and queries and help you prepare to enter the housing market.
Also, loved ones may be able to help you avoid potential pitfalls as you search for the ideal residence. Although some family members and friends may have made mistakes when they bought homes in the past, your loved ones can help you learn from their errors and ensure you can avoid various homebuying pitfalls.
3. Loved ones can help you make tough homebuying decisions.
Let's face it – the decision to buy a home is one of the biggest that an individual may make in his or her lifetime. As such, the decision to purchase a home is not one that should be taken lightly.
Loved ones are happy to listen to your homebuying concerns time and time again. They can offer suggestions and recommendations as you explore homes and help you remain calm, cool and collected at each stage of the homebuying journey.
Of course, if you want additional assistance during the homebuying journey, it never hurts to hire an expert real estate agent. This housing market professional can set up home showings, negotiate with home sellers on your behalf and provide comprehensive homebuying support at any time.
Reach out to loved ones for support as you get ready to search for your dream home. By doing so, you may be able to speed up the homebuying process.
 When it comes to the marketability of your house, appearances are everything! If your house is up for sale or you have plans to put it on the market soon, there are a lot of details you need to attend to before prospects stop by.
Although it's difficult to make a lived-in house look immaculate all the time, the closer you can come to that high standard, the better! Whether they're actively looking for signs of cleanliness or just noticing it subconsciously, the overall condition of your home can and does make an indelible impression on prospective buyers.
The reason "curb appeal" is emphasized so strongly by real estate agents is that the initial impression you make on house hunters can impact the amount of time your property stays on the market. That's especially true in "drive by" situations in which prospects quickly check out your house from the street and make a snap judgement about whether or not they like what they see. If your house and yard look appealing to them, then they may follow up with either the listing agent or their buyers' agent. On the other hand, if there's peeling paint visible, an aging roof, or weeds growing out of cracks in the driveway, they'll probably drive on and continue their search elsewhere. As you can imagine, there's a lot riding on curb appeal, so it pays to keep your lawn looking manicured and other landscaping features well maintained.
Once prospects are inside your home, they're going to notice everything from scuffed walls and cluttered furniture to the smell of toast you burned that morning or greasy cooking odors. Pet odors can also be a major turnoff for many prospective buyers, especially if they're not dog or cat fans to begin with! A worst-case-scenario, of course, is to have a last-minute pet accident happen on the floor when prospects are touring the house. That's not just a hypothetical situation; it occurs more often than you might think. To prevent that potential "disaster," some home sellers make arrangements with friends, relatives, or pet daycare services to have their dogs or cats taken care of outside of the house when tours are scheduled. While that's not always practical or even possible, it can make a big difference in the impression your home makes on potential buyers.
The bottom line when it comes to effective home staging is that people are going to notice "the good, the bad, and the ugly." Your objective, of course, is to do everything possible to diminish the negatives and accentuate the positives. Your real estate agent can be an indispensable resource for providing you with the unvarnished truth about what needs to be repaired or cosmetically improved to present the best possible image of your home to the public.
Just Listed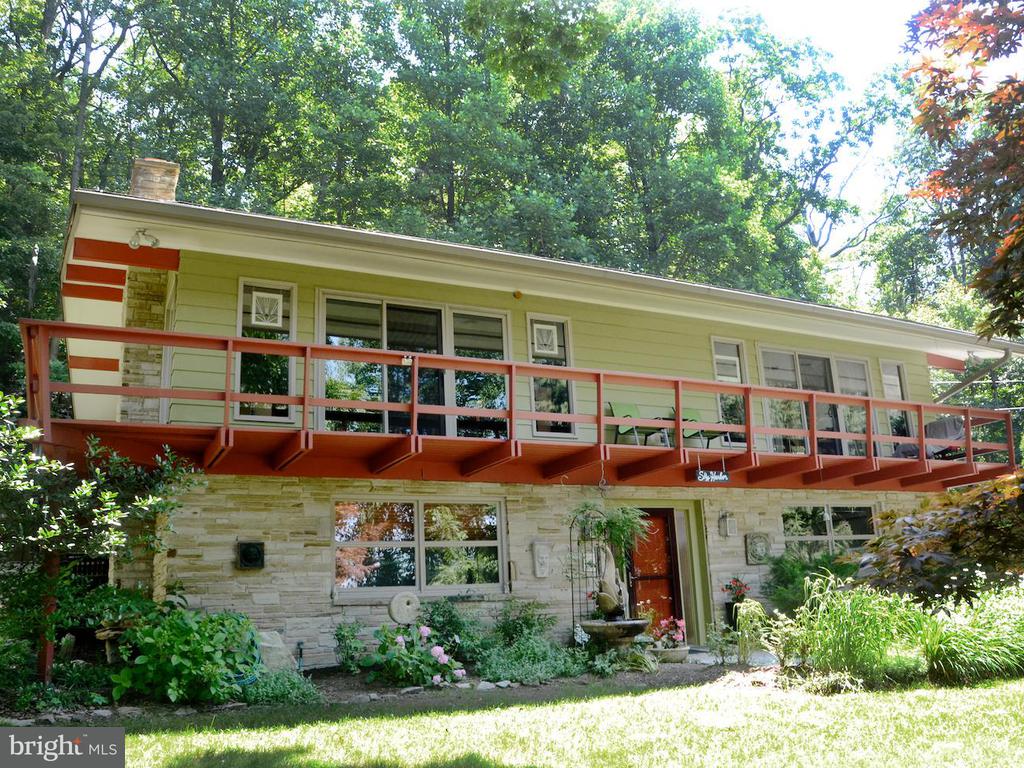 Beautiful well kept home nestled on a ridge amid tall trees on 3.5-acre wooded lot near historic Braddock Heights,minutes from 270 and 70, vibrant downtown Frederick, hiking/biking trails of beautiful Gambrill State Park & Middletown schools. 4 bdrm 2 full baths, wrap around deck with spectacular views.Stone fireplace tons of closet space updated kitchen counters,Baths w/walkin shower. 2Car Garage